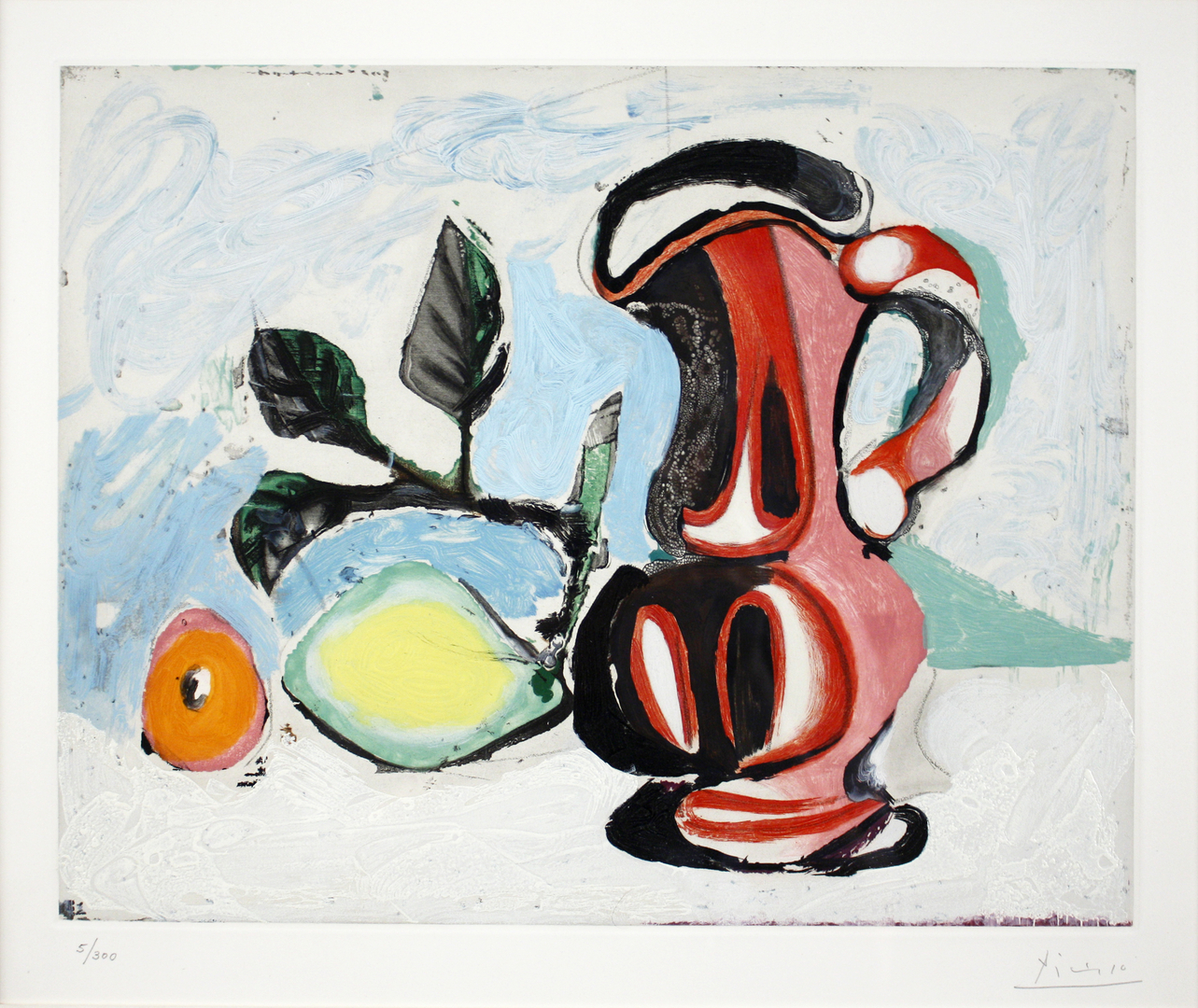 Red Pitcher & Lemon
Pablo Picasso, c. 1960, Color Aquatint on Rives paper, 12.5 x 15.75 inches, Edition of 300.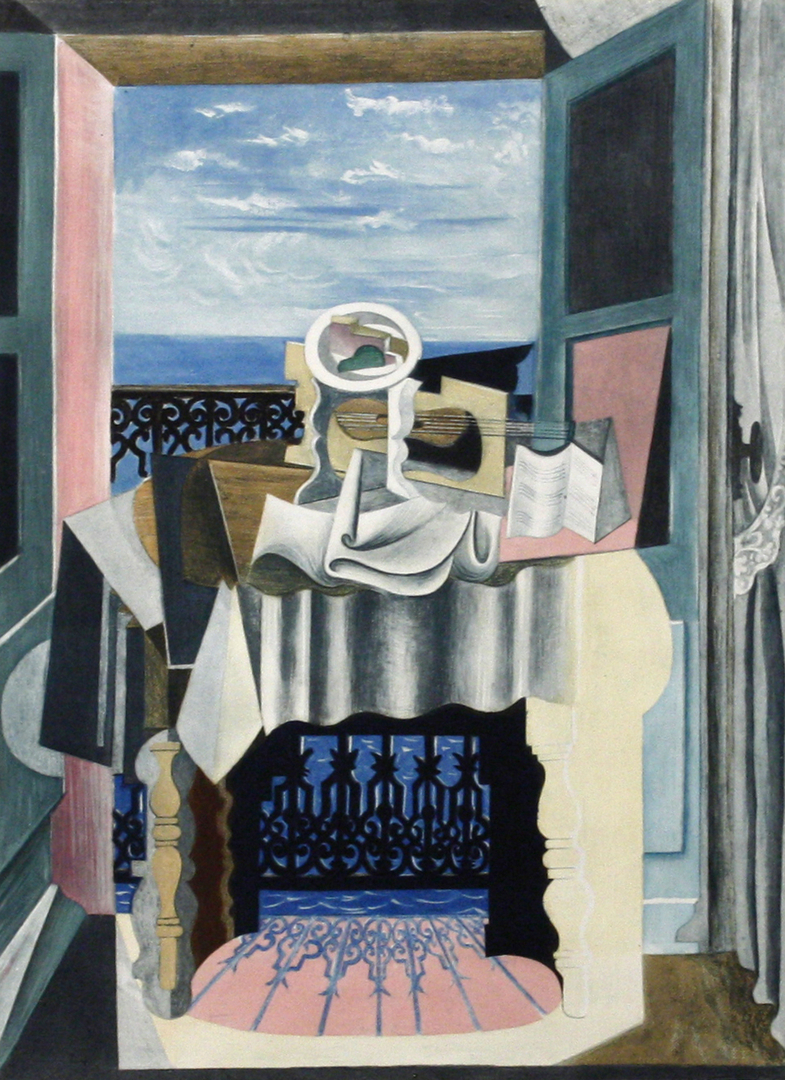 Nature Morte Devant une Fenetre a St Raphael
Pablo Picasso, 1919, Etching and aquatint on Chine colle, Signed in pencil lower right, 13.75 x 9.75 inches, 30.5 x 25.25 inches,Artist's Proof, Aside from the Edition of 100.
Bacchanale
Pablo Picasso, 1955, etching on wove paper after the painting, 23 x 31.50 inches, Edition of 250, NOTE: Signed Picasso lower right and numbered 18/250 lower left in pencil Lacouriere blindstamp Printed by Crommelynck.
Nature Morte Au Crane
Pablo Picasso, 1960, Color Aquatint on Arches paper with Lacourière blindstamp, Signed Picasso lower right numbered 93/150 lower left in pencil, 21.25 x 30 inches (sheet size), 32.75 x 39.75 inches (framed size), Edition of 150, Printed by Aldo Crommelynck, Published by Atelier Lacourière, Paris.
Le Vieux Roi
Pablo Picasso, 1963, Etched Linoleum Print (color), Signed in pencil Picasso on lower right, 25 x 20 inches, Edition of 160.
Buste au Corsage a Carreaux
Pablo Picasso, 1958, Lithograph on Arches wove paper, Signed in red crayon, 25.8 x 19.8 inches, Edition of 50, B. 849, M. 308.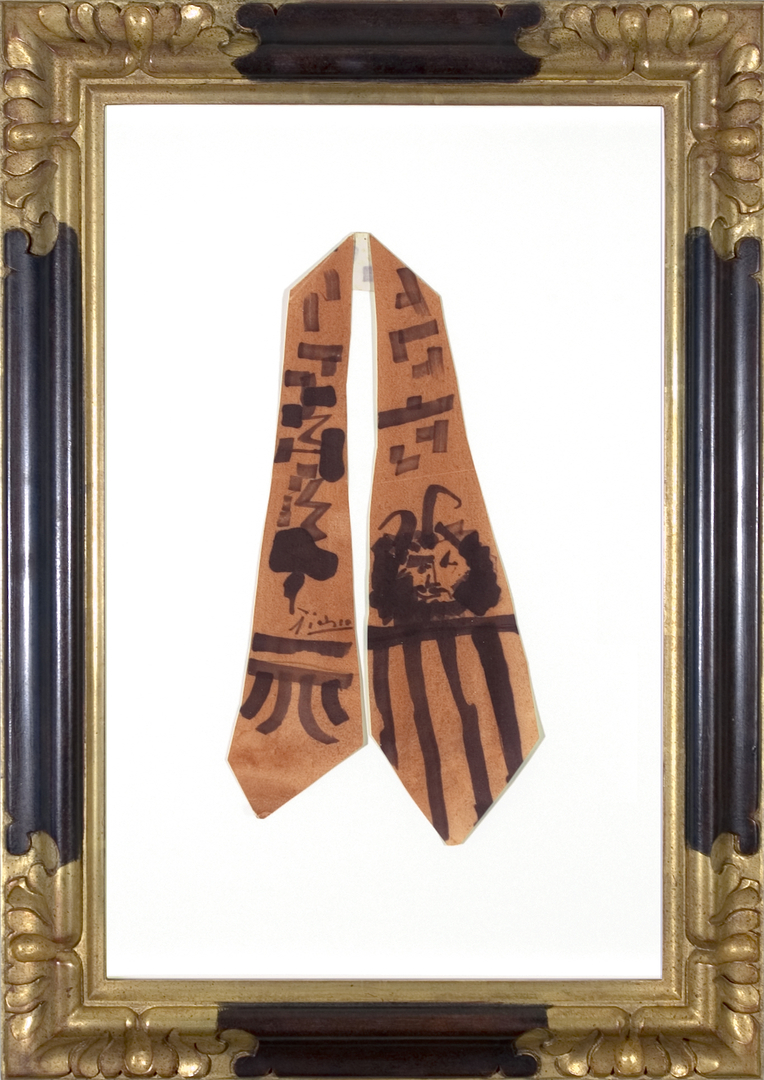 Necktie with Satyr
Pablo Picasso, 1950, Felt Pen on Paper, Signed Picasso on the left part of the tie. Folded 13.75 inches long, 7.5 inches (bottom) and 3.75 inches (across fold), 26 x 18.5 inches (framed size).
Le Faun
Pablo Picasso , 1958 Etching and Aquatint on Japon paper 12 x 10 inches (image size) 21 1/2 x 16 3/4 sheet size H.C. Edition of 300 Signed in pencil "Picasso" lower right Printed by Aldo Crommelynck